Mississauga Comic Expo highlights works of locals and GTA artists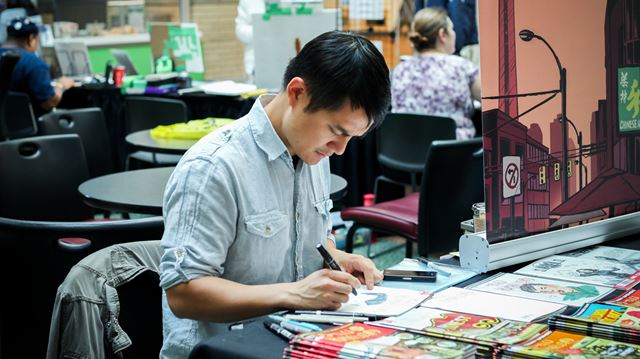 Comic Expo
The Mississauga Comic Expo runs this Friday (Oct. 21) and Saturday (Oct. 22) at the Central Library
Mississauga News
There's just something about comic books that makes people absolutely love them.
Some are filled with classic stories of good triumphing over evil featuring archetypal characters while others are more contemplative explorations of the human condition. And, there are plenty of others that don't fit neatly into any genre but are still adored by readers.
Fans can learn more about what it takes to create them and also connect with Mississauga and GTA artists and illustrators at the Mississauga Comic Expo, which runs Friday (Oct. 21) and Saturday (Oct. 22) at the Central Library.
Haider Rizvi, the expo's lead coordinator, said they've expanded the second annual event to two days after last year's success.
The expo will highlight the works of Mississauga and GTA artists, such as local Jason Loo. He's one of the expo's coordinators and is also author and illustrator of the Pitiful Human-Lizard. Other Mississaugans taking part include Joy San, Stephany Lein, Brian Wong, Aaron Ong (Maddsketch) and Andrew Thomas.
Rizvi said the expo is a great event for fans but is also a way to introduce people to the library system.
For example, the library stocks the works of many of the creators participating in the event. So, if someone falls in love with a comic over the weekend, there's a good chance they will be able to check it out of the library that day.
"They are some of the faces behind what we have on the shelves," said Rizvi.
There will be a number of comic workshops and panels focusing on how to create your own hosted by industry veterans including Alfonso Espinos (founder of Studiocomix Press), Brian McLachlan (OWL Magazine's The Outrageous World of Alex and Charlie and author of Draw Out The Story: Ten Secrets To Creating Your Own Comics) and Jay Torres (Batman: The Brave and the Bold and Teen Titans Go).
While a big part of the event is focused on comics, fandom will be serviced over the two days with a variety of different activities and promotions.
Things kick off Friday (Oct. 21) with a screening of the Captain Canuck web series followed by a concert with performances by Wordburglar, More or Les and The Cybertronic Spree, which is a group of musicians who dress up like Transformers and play live.
On Saturday (Oct. 22), there's video games, board games, tabletop RPGs, a sketch challenge, children's costume parade, Magic: The Gathering tournament, crafts, stories, Lego stop motion animation, cosplay, an escape room and costume creation tips by the Toronto Steampunk Society.
From:
The Mississauga News